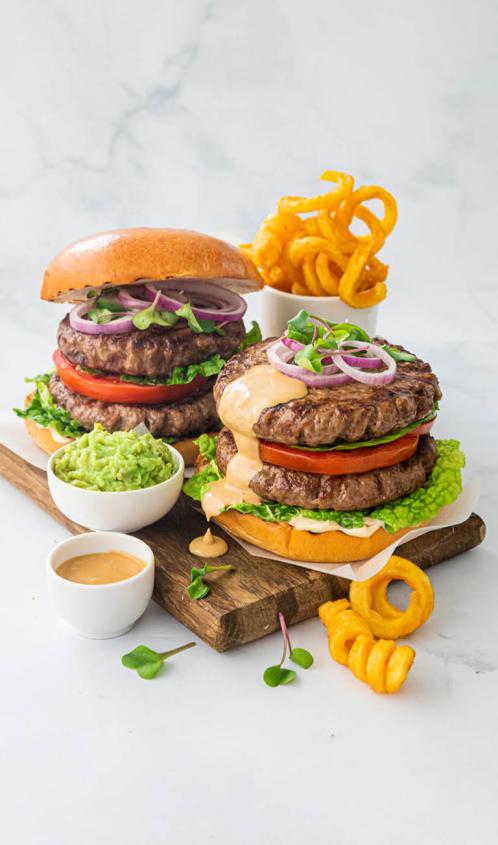 Irish Burger with Pivo Dolly beer sauce & avocado mash on Brioche Bread served with curly potatoes
meatLovers
Prep-time
Bake-time
10 min
30 min
INGREDIENTS
2

Irish Rustic Beef Burgers foodhaus

2

Brioche burger buns

Fresh salad leaves:

1

tomato, slices*
Red onion rings*

For the Pivo Dolly beer sauce:

2 tbsp

Lurpak unsalted butter

2 tbsp

all-purpose flour*

½ cup

beef stock*

½ cup

Pivo Dolly beer

1 tbsp

Worcestershire sauce

½ tsp

Dijon mustard

½ tsp

Maldon sea salt flakes

½ tsp

Maldon perfectly crushed pepper

For the Avocado mash:

1 cup

Salud avocado slices, defrost ready to use

1

lemon juice*

3 tbsp

Chorio extra virgin olive oil

½ tsp

Maldon sea salt flakes

½ tsp

Maldon perfectly crushed pepper
METHOD
1. Make the avocado mash: In a small bowl, mash avocado. Add lemon juice, olive oil, salt and pepper. Keep refrigerated till needed.
2. Make the sauce: Melt the butter over medium heat then whisk in the flour.
3. Allow it to cook for about 1-2 minutes, whisking constantly.
4. Slowly whisk in Pivo noir beer and beef stock.
5. Add mustard, Worcestershire sauce, salt and pepper.
6. Bring to a boil, whisking constantly.
7. Once the gravy thickens, remove it from the fire, cover, and keep warm.
8. Heat the barbeque to medium-high heat.
9. Grill the burger for 10 minutes on each side, or until cooked to your preference.
10. Place Brioche burger buns on the barbeque and grill for 2-3 minutes per side.
11. Remove buns from fire.
12. Top brioche burger buns with fresh salad leaves, burgers, tomato slices and red onion rings.
13. Add gravy on top.
14. Serve with avocado mash and curly potatoes.
Kali Orexi!
*This recipe item is not found in foodhaus shop