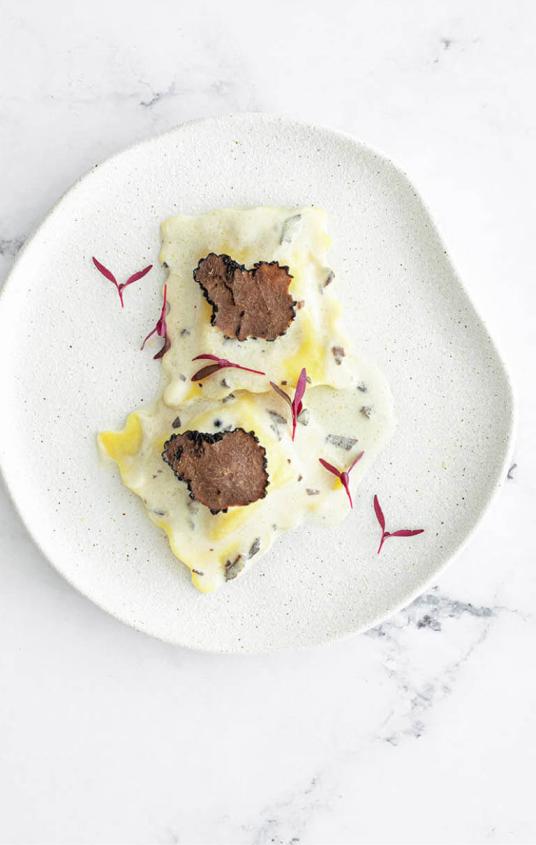 Crab ravioli with creamy truffle sauce
seafoodLovers

Prep-time
Bake-time
5 min
10 min
INGREDIENTS
1 package

foodhaus crab ravioli

1 tbsp

Lurpak unsalted butter

1 tbsp

Dryas white truffle carpaccio, chopped

½ cup

Arla whipping cream

1

whole Dryas black truffle, cut into thin slices

¼ cup

freshly grated parmesan

½ tsp

Maldon sea salt flakes

½ tsp

Maldon perfectly crushed pepper
METHOD
1. Boil the crab ravioli according to package instructions.
2. While ravioli is boiling make the sauce: Add butter to the frying pan at medium heat and wait until it is melted. Drain the chopped white truffle carpaccio and add them to melted butter in the pan. Keep the heat at medium. Sauté the truffles in the butter for 1 minute.
3. Add the whipping cream and stir.
4. Bring to a boil, then reduce heat and simmer for 2-3 minutes.
5. Add parmesan and stir for an extra minute.
6. Add cooked ravioli to the pan along with 1 tablespoon of the cooking water.
7. Cook for an additional minute or so.
8. Season with salt and pepper.
9. Add ravioli on a plate and top it with black truffle slices.
10. Serve immediately.