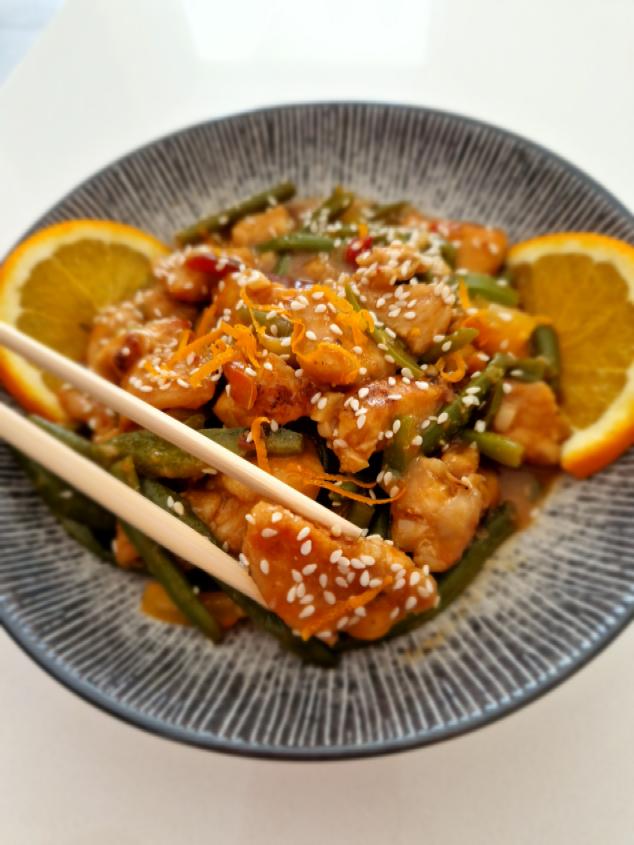 Crispy chicken with orange sauce, green beans and peppers
poultryLovers

Prep-time
Bake-time
10 min
20 min
INGREDIENTS
For the chicken:

800 gr

foodhaus chicken breast (cut in cubes)

1½ tbsp

Maldon sea salt

½ tbsp

Maldon pepper

1 tbsp

garlic powder*

1½ tbsp

La Chinata sweet paprika

30 gr

corn flour*

1 tbsp

baking powder*
Place them all in a bag and shake them well until all the cubes are covered with the ingredients

For the sauce:

1 tbsp

Chorio Olive oil

3 tbsp

Ardo diced garlic

1 tbsp

Ardo diced ginger

½ tbsp

chili flakes*

250 ml

Kampos Chios orange juice

30 ml

KIKKOMAN soy sauce with less salt

2 tbsp

Blossom honey

10 gr

corn flour diluted in 40-50 ml water*

200 gr

Ardo Beans (boiled)

200 gr

Ardo chopped mixed peppers
METHOD
Spray the pan with olive oil and once it is well heated, fry the chicken in two batches if necessary.
Take it out and then spray again with a little olive oil and add the garlic, ginger and chili flakes. Stir for a minute.
Add the orange juice, soy sauce and honey. Let it get hot enough and bubble. Add the corn flour dissolved in the water, stir to thicken and add the chicken, boiled beans and peppers. Mix for a minute and they are ready!
Serve with rice or noodles!

Kali Orexi!
*This recipe item is not found in foodhaus shop